Everyone knows theft is a big problem in retail. Not only do shop owners have to guard against shoplifters and scammers, but the sad reality is retailers also must constantly deal with employee theft.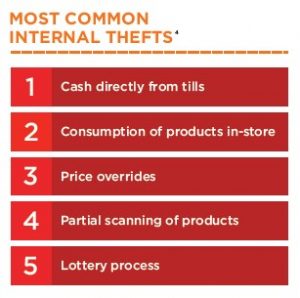 The Crime Report 2019, recently released by the U.K.`s Association of Convenience Stores (ACS), reveals employee theft cost convenience stores in the kingdom a whopping yearly £20 million, the equivalent of US$25 million. There were 22,754 incidents of staff theft in the past year, at cost of £895($1,135) each, with the most common theft being cash taken directly from tills the report says.
According to the ACS, retailers have invested approximately £5 million to tackle the problem, using a number of methods such as the implementation of in-store best practices, installing new technology and reducing the amount of cash kept in the tills.
The good news is employee theft declined from an average of 13 instances per businesses in 2012 to six per business in 2017. However, only a fraction of incidents (30%) are reported to the police because retailers perceive the thefts as "a failing of their own internal reporting and checking procedures."
Failure to notify the authorities has wider repercussions, the report points out. "Reporting incidents to the police can also prevent offenders moving to other businesses and committing the same offence."
Shop Thefts

In addition to staff thefts, shop owners also fall victim to shoplifting committed by members of the public. The office of National Statistics reported that police-recorded incidents of shoplifting in England and Wales has increased by 17% over the last decade across all retail. This figure has risen despite the reduction in police intervention, ACS Chief Executive James Lowman said in an interview with The Telegraph, "In the convenience sector, more than half of thefts are now not reported due to frustration with police forces not investigating or prosecuting thieves. Some police forces have introduced arbitrary thresholds below which they no longer investigate thefts, ranging from £100 to £200.
"Adopting these thresholds effectively prices small stores out of receiving any response to thefts against them, and publicising these policies encourages more theft and gives the impression of these offences being decriminalised."
A large majority (79%) of thefts involved repeat offenders, and the rest are first-time offenders. "Retailers," the report says, "perceive that 50% of repeat offenders are motivated by a drug or alcohol addiction." Often, theft is accompanied by violence and threats. Convenience stores experienced 9,782 instances of violence and 12,397 robberies. Robberies, as defined by the report, involve force or the threat of force.

Another issue is fraud, which costs the convenience store sector £9 million ($1.5 million) annually. Counterfeit bills are the most prevalent type of fraud, the report says, and £20 notes are the most common counterfeits. The U.K. has taken steps to curb counterfeiting by introducing polymer bills, and in 2020 the Bank of England will start distributing a polymer £20 note.
Steps to Protect Stores
To protect their stores from theft, ACS has several recommendations for C-store owners that combine technology with best practices:
Regularly monitor stock levels and stock rooms.
Reduce the amount of cash held in tills.
Keep the front of the store visible from checkout so staff can see customers as they approach.
Keep high-value goods or targeted products such as meat and alcohol in view of the till.
Report employee thefts to the police.
Report customer anti-social behavior to authorities.
Vary bank run habits to make them less observable.
Use CCTV cameras with at least six frames per second
Train staff on security procedures and how to deal with abusive customers.
Technology is key to addressing theft. APG`s SMARTtill Cash Management Solution, for instance, helps minimize cash loss from employee theft, giving the incorrect change and other issues with its advanced cash-counting, analytics, and security capabilities. Mobile discrepancy alerts for no-sale till transactions provide store managers time-and-date stamped CCTV footage matched with the t-log. Cash losses are virtually eliminated with a reduction of up to 90%. While theft is likely to remain a problem for retailers, the right combination of technology and best practices helps keep losses down.