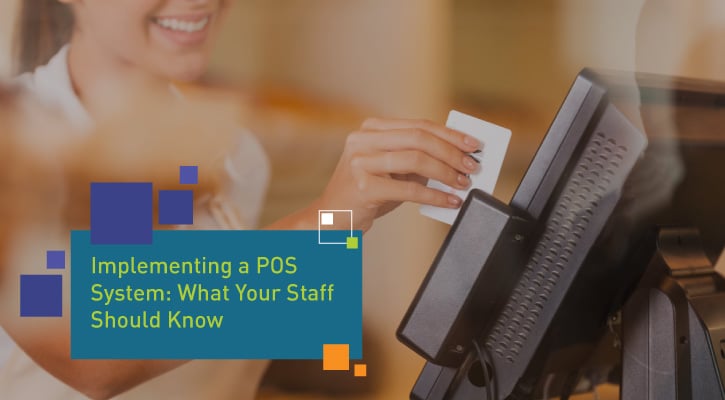 While shopping for a POS system takes a lot of research and the right investment, one of the most important parts of getting a new POS system is implementing it into your current operations. Once you`ve introduced your system to your business, it`s essential to train your staff and make sure they know how to make the best of its capabilities.
This is why we`ve compiled this Q&A to help you determine what your staff should know about your POS system. Here are the questions you should be thinking about:
How does an iPad system differ from a legacy system?
What can you learn from your inventory?
How do loyalty programs come into play?
What other features are important?
How will your staff handle scheduling?
How should you handle security?
Are you ready to take a closer look at the process of implementing your POS system? Let`s dive in!

1. How does an iPad system differ from a legacy system?
It`s important to consider the differences between an iPad POS system and a legacy system. To start, iPad systems are cloud-based, while legacy systems store their data on a local server.
Be sure to take a look at the differences between these two types of POS systems and train your staff on how to use the one you`ve employed:
Legacy systems are the more traditional form of POS systems, having been used for several decades. iPad systems are cloud-based and also rising in popularity.
Legacy systems store their data on a local server at the business and have been developed over the years to incorporate decades` worth of features. iPad systems have also built on these features and offer a variety of other capabilities, such as off-site reporting.
The use of iPad and other tablet POS systems has continued to grow in recent years and, as a result, is becoming a popular choice for businesses looking to upgrade. It`s up to you to decide which system would work better for your business`s needs and to train your staff accordingly.
If you choose to switch from a legacy system to a cloud-based system, be sure to introduce your staff to this new software. This will ensure that they can differentiate between the two types of POS systems and start using the new system efficiently.

2. What can you learn from your inventory?
Once you`ve introduced your POS system to your staff, it`s time to train them to use it. This means not only highlighting the various capabilities but also ensuring that you teach them the best practices for using them.
Let`s focus on inventory management.
An iPad POS system can track ingredient levels and notify your staff if one is about to run out. If you`re running a pizza shop, for example, this is a great way to track the ingredients you`re using, like toppings, and will help your staff notify customers beforehand.
However, the benefits don`t stop there. With real-time inventory updates, your staff can:
Learn what items are more popular than others. Continuing with the restaurant example, due to the information your inventory software provides about ingredients, your staff will know which ingredients are popular with customers.
Determine how to adjust inventory. Both you and your staff can determine based on popular items what should be ordered in higher quantities, and what can be scaled back. This will ensure your staff doesn`t have to notify customers that their preferred item is out of stock.
Transfer items between locations. If your restaurant is a chain, you can transfer products from one location to another via your inventory system, which is another effective way to avoid running low on menu items.
If you`re interested in learning more about how inventory management can help you and your staff make customers happier and make their jobs easier, check out Lavu`s comprehensive guide.

3. How do loyalty programs come into play?
Loyalty programs are a tried-and-true method of engaging customers and securing repeat visits to your business. Automating your loyalty program through your new POS system is going to enhance this experience even more.
Focusing on customer service is a trend that successful businesses are following, as a customer-centric atmosphere is noticeable and can help your business exceed expectations.
That`s why training your staff on an integrated loyalty program with your POS is key. Try out these strategies to take full advantage of your loyalty program:
Use your customer database. Keep track of customer names, email addresses, and phone numbers, which your staff can access each time the customer visits.
Analyze the data. Encourage repeat customers by paying attention to what they`re purchasing. If your typical coffee shop patron orders coffee and a muffin, email them a promotion for a free muffin with the purchase of a coffee!
Use an app. Foster brand loyalty and increase your transaction speeds by incorporating a loyalty app into your program. Make sure your staff is trained to incorporate the app into each transaction so there are no surprises!
Your customer acquisition strategy is challenging enough, so work toward maintaining loyal customers who will then spread the word to their friends and family. If your staff is continuously promoting your loyalty program, you`ll drive up your revenue and increase the number of customers who walk through your doors.

4. What other features are important?
As mentioned before, it`s a good idea to introduce certain best practices with using an iPad POS system, especially for a restaurant. Restaurants can take and send orders, as well as process payments tableside.
This all sounds easy, but it does take some training to make everything run smoothly. Make sure your staff knows the best practices for:
Taking orders. If your new POS system offers a customized menu, you can add forced and optional modifiers to ensure your staff upsells whenever possible and sends necessary information about orders directly to the kitchen.
Online orders. Online ordering capabilities are a great feature of iPad POS systems and will send orders directly to the kitchen, too. As a result, your staff will know they can focus on customers who are dining in.
Tracking tables. Robust POS software allows your staff to view the exact layout of your restaurant on the screen so your staff can track open tables, orders, and payment status.
All of these features will require training, especially if some of your staff members are less tech-savvy. However, the intuitive interface will soon be the central element of your day-to-day operations, and your staff will be ready to assist customers and use the system!
Learn more about the important features of your POS system here.

5. How will your staff handle scheduling?
Once your staff is trained on processing transactions, you should focus on other management tasks that they can take part in using. This includes scheduling and other shift-related tasks.
For instance, Lavu offers management software that simplifies your employee scheduling process for your restaurant. With this type of software, you can:
Schedule your employees` shifts with ease. Easily schedule shifts right in your POS software, which your staff will have access to.
Allow your employees to clock in and out. Train your staff on how to clock in and out using the POS system and accurately record shifts as a result.
Let your employees proactively trade shifts. It`s no longer necessary to go through the manager to allow your staff to trade shifts. Your staff will be able to proactively do this through the POS system.
By simplifying your scheduling process, you`ll be able to focus more on what needs your attention most, and your staff will be able to adjust their shifts and clock in and out as needed. Be sure to train them on these features early on in your implementation process to avoid confusion, and you`ll set everyone up for success!

6. How should you handle security?
Part of introducing your staff to your new POS system means handling some elements that aren`t as fun to talk about. This includes security. But it`s essential that you incorporate security measures into your implementation and training processes to deter employee theft and keep everything honest.
There are a few ways to do this:
Dual cash drawers. Managing cash with your POS system can be a challenge when you have two servers using the same system, so introduce a second cash drawer. Two cash drawers are attached to a single, shared POS terminal, but each drawer is assigned to a single server. This will allow you to hold your staff accountable for the till. Business owners should also evaluate the volume of cash transactions to determine what level of durability and size drawer is required.
Take additional security measures. Things like password protection and limiting POS access to authorized employees only is a good start toward preventing theft.
Ethernet and Bluetooth solutions. These mobility solutions (mPOS) present new opportunities to improve the purchasing experience by discretely relocating the cash drawers and other payment devices from the check-out line to the actual point of purchase. These cash drawer interfaces provide a secure environment for these transactions by ensuring that the drawer can be opened only when the retail sales associate is in close proximity of the drawer.
Cash management solutions. Systems like the SMARTtill® Solution also have an impact in the area of security by helping reduce cash losses through the accurate tracking of cash in the till in real time with every transaction and providing cashier accountability. When the back end is connected to systems such as the SMARTtill® Solution, metrics and analytics are provided based on actual transaction data helping retailers improve their businesses by streamlining their cash management processes.
Security should always be a priority at your business. PCI and EMV compliance is important, but going beyond your general payment processing and focusing on deterring theft is a great way to make your entire process secure. Hold your staff accountable and keep your customers` data safe.
There`s a lot your staff should know about implementing a POS system, so it`s important to go through a carefully planned training process that introduces them to the new features they can use. The more comfortable your staff members are with the new system, the more smoothly your daily operations will go. Keep your customers satisfied and your staff happy, and you`ll reap the benefits of your new POS software!