Best-in-Class Solutions Purpose-Built for Your Environment
APG has taken its 40 years of cash management experience and now offers a suite of Best in Class cash drawer
solutions. Our innovative designs are manufactured to meet the requirements of a variety of transactional environments
all the while offering a consistent out-of-box lifetime performance. APG tests all of its POS cash register drawers with the appropriate amount of weight for the Class/Family to emulate a loaded till at the retail point of sale.
We offer a robust product range of general application cash drawers including Legend, Genesis and Soma product family cash drawer solutions for every environment. You no longer have to sacrifice durability, dependability and quality at the point of sale.

---
Download Product Overview – North America
Download Product Overview – Europe
Watch now: APG's Good, Better and Best Cash Drawer Solutions
LEGEND PRODUCT FAMILY CASH DRAWERS
Cash drawers under the Legend category are tested to last beyond 4 million transactions. Exceeding customer and industry expectations, APG's Performance cash drawers are the ultimate heavy duty cash drawers. Industrial-grade steel ball bearing slides ensure effortless performance and durability. A robust latch mechanism and a proven four-function lock assembly offer several levels of security. Along with flexible storage space, and various sizing, color and customized options, these features make the Performance cash drawers a preferred choice.
– Grocery
– Government
– Healthcare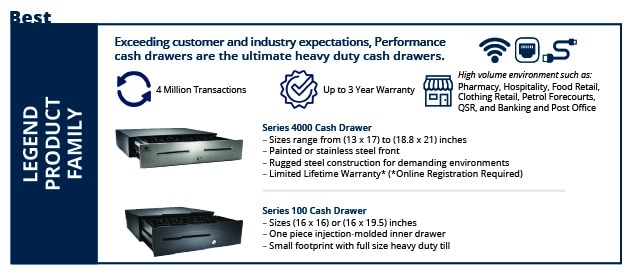 ---
GENESIS PRODUCT FAMILY CASH DRAWERS
Our Genesis cash drawers are a cost-effective solution for low volume environments. Each member of the Standard cash drawer family is competitively priced and includes features, such as multi-function locks and drawer status reporting, found in more expensive cash drawers. A variety of models with a wide range of size, style, color, interface and till configuration options are available to meet your specific requirements.

---
---
---
---
SOMA PRODUCT FAMILY CASH DRAWERS
Soma cash drawers offer customers on a budget a solution that provides superior entry level features and the peace of mind. Click here to view Entry level cash drawer (ECD) products.
– Grocery
– Government
– Healthcare
– Kiosk
– Food truck
– Pop up retail