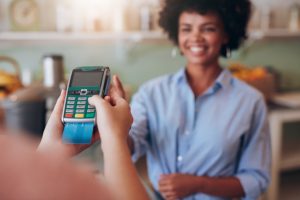 The adoption of EMV technology (Europay, MasterCard and Visa) at the POS in the U.S. has been slow and, at times, confusing. When the deadline for merchants to start accepting EMV chip-enabled cards passed in October 2015, more than two-thirds of merchants weren't ready for the switch.
But things have started to change, according to a recent CIO magazine article. "The good news is, consumers are starting to adapt to the new normal – their first instinct now is to insert a chip, not swipe. In addition, Visa and Mastercard implemented new quick-chip technology last summer, to make the processing time faster for consumers."
Card issuers also have eased the fraud chargeback rules to ease the burden on merchants. Originally, merchants that weren't "EMV-ready" would be held responsible for transactions with chip-less cards. Now, as reported by Digital Transactions, merchants won't get chargebacks when a "cashier processes a counterfeit contactless chip card on a contactless terminal made for mag-stripe cards if the issuer authorizes the transaction, even though the terminal isn't an EMV-capable device."
Fuel Industry Stalled
For U.S. automated fuel merchants Visa and MasterCard announced in December 2016 a three-year delay of the EMV liability shift from October 2017 to October 2020. Complicated infrastructure and specialized technology required for fuel pumps necessitated the delay. Add to that an insufficient supply of regulatory-compliant EMV hardware and software to enable most upgrades by 2017. Key decision makers within the retail petroleum vertical may hold off on POS upgrades knowing that this shift looms on the horizon.
So progress within most card payment industries has been made. But more is needed, as was evident at a RetailNOW panel late last summer entitled, "The Disruptive Payments Ecosystem."
Table side Issues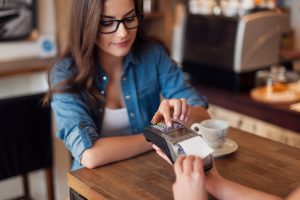 One of the questions still to be addressed is how to handle EMV cards at table side in restaurants and eateries. It's one thing to insert a card into the chip slot at a store counter or supermarket checkout, but it can become awkward at table side. Some chip-enabled cards require a PIN to process transactions, so what happens when customers are ready to pay? Typically, the customer would give the card to the server, who takes it to the back to process payment.
One of the solutions being discussed is the use of WiFi or Bluetooth-connected PIN pads. Restaurants will need to deploy mobile POS extensions that allow patrons to punch in their PIN at the table, since customers won't want to share their PIN numbers for obvious reasons. A few restaurants have started to implement compliant tablet-based hardware on each table, removing server intervention and allowing for PIN privacy.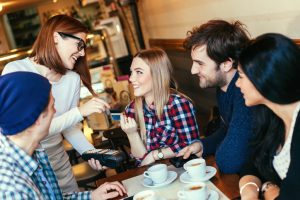 The question of tipping also comes up when using chip-enabled payment cards at the table. It's a problem that Europeans didn't face when they adopted EMV standards because tipping there is far less common. This, too, will have to be addressed in designing table side payment-process systems so that customers can tip servers in a natural way – in other words, without the server having to say, "Will you be leaving a tip today?"
Future-proofing POS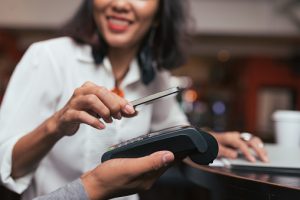 As issues associated with EMV get resolved, resellers nevertheless should be talking to their customers about the best options for new POS deployment or replacement. Keep an eye on developments so you have the most up-to-date information to share with merchants and ensure they implement systems that support future requirements. Besides recommending EMV-ready systems, talk to customers about NFC (near-field communication) solutions, which enable communications between, say, a smartphone and a POS terminal at a proximity of less than two inches. How NFC and EMV will interact isn't yet clear, though the expectation is payment cards eventually will be NFC-enabled to speed up transactions.
Though the transition to EMV has been slow and painful, it won't be long before all merchants are EMV-ready. By the end of 2017, 90 percent expect to have made the switch. That's not bad, considering the number was 27 percent when the deadline passed.