Global Cash Management Manufacturer Extends Commitment to ISVs and Resellers with Addition of a SMARTtill™ Business Development Manager in North America
---
APG Cash Management Solutions, a world leading manufacturer of innovative, high-quality cash drawers, custom design solutions, and SMARTtill Technology at the point of sale, announced today the addition of Logan Gleissner, SMARTtill Business Development Manager. In his role, Logan will focus on building and expanding APG`s SMARTtill Solution network of ISVs and Resellers in North America.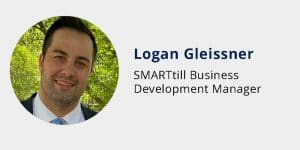 Logan comes to APG with over 10 years of experience in the grocery and hospitality industries. He was most recently with EatStreet as the Territory Manager for their Kansas operations and previously served as a Sales Executive for Truno Retail Technology and Retail Data Systems.
His experience includes expertise in various POS platforms, including NCR and Toshiba ACE. He has expansive knowledge of the reseller channel which will be instrumental for developing strategic partnerships and for the growth and integration of the SMARTtill Technology.
"We are excited to have Logan join our SMARTtill Solution team," said Stephen Bergeron VP of Sales and Marketing for North America at APG. "Logan`s understanding and experience within the reseller and ISV channels for grocery, hospitality and convenience will play a pivotal role as we expand our reseller customer base."
Logan lives in Kansas City with his wife, Arin, and son, Wesley. He is a graduate of Lindenwood University where he played Lacrosse. To schedule a meeting with Logan at the NGA 2021 show, please contact logan.gleissner@us.apgcashmanagement.com
---
About APG Cash Management
Founded in 1978 and headquartered in Minneapolis, Minnesota, APG serves more than 90 countries worldwide. It is a leading manufacturer of high-quality cash management, parts and accessories, and integration systems at the point of sale. For more information about APG visit www.apgcashmanagement.com.
---
Media Contacts
Global Marketing
763.450.5239
www.marketing@apgcashmanagement.com